surfboard deck grip, deck grips, surfboard tail pads, tail pad, surfboard traction pad Australia
Sticky Johnson surfboard grip - NZ's premiere surfboard tail pad uses premium quality EVA foam and 3M adhesive. Super grippy diamond square cut means unreal traction.
Once you try 'em you'll be stuck on 'em.....get on board!
super thin 1.5mm pad base to maximise board sensitivity under foot

3M adhesive backing surfboard grip
27mm kick tail 

for maximum performance

5mm deluxe arch bar
sloped tail kick
diamond square cut for super grip
premium quality EVA foam 
2 piece or 3 piece options
 Styles
SLIT 3 piece colourways in order top left to bottom right: blue black, green black, grey black, marble black, marble blue black, black, black blue, black green, black grey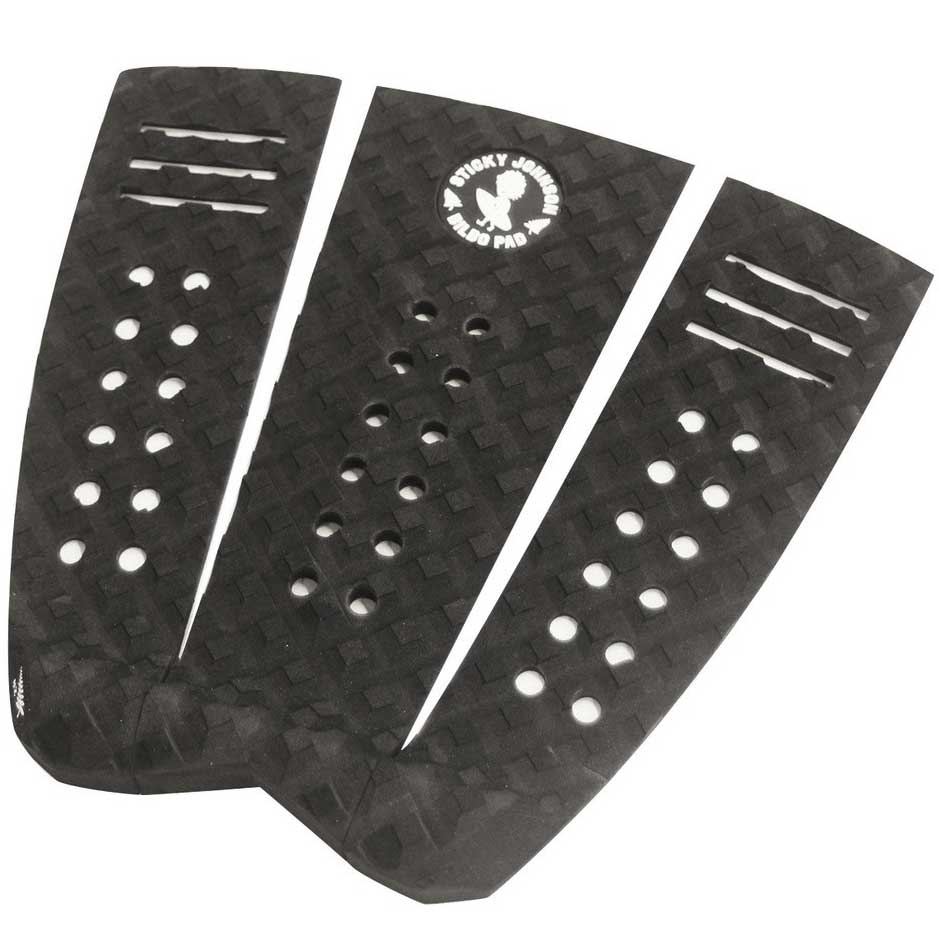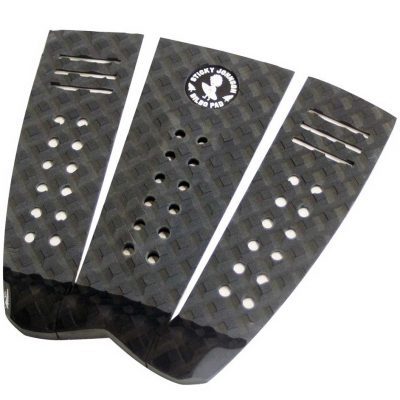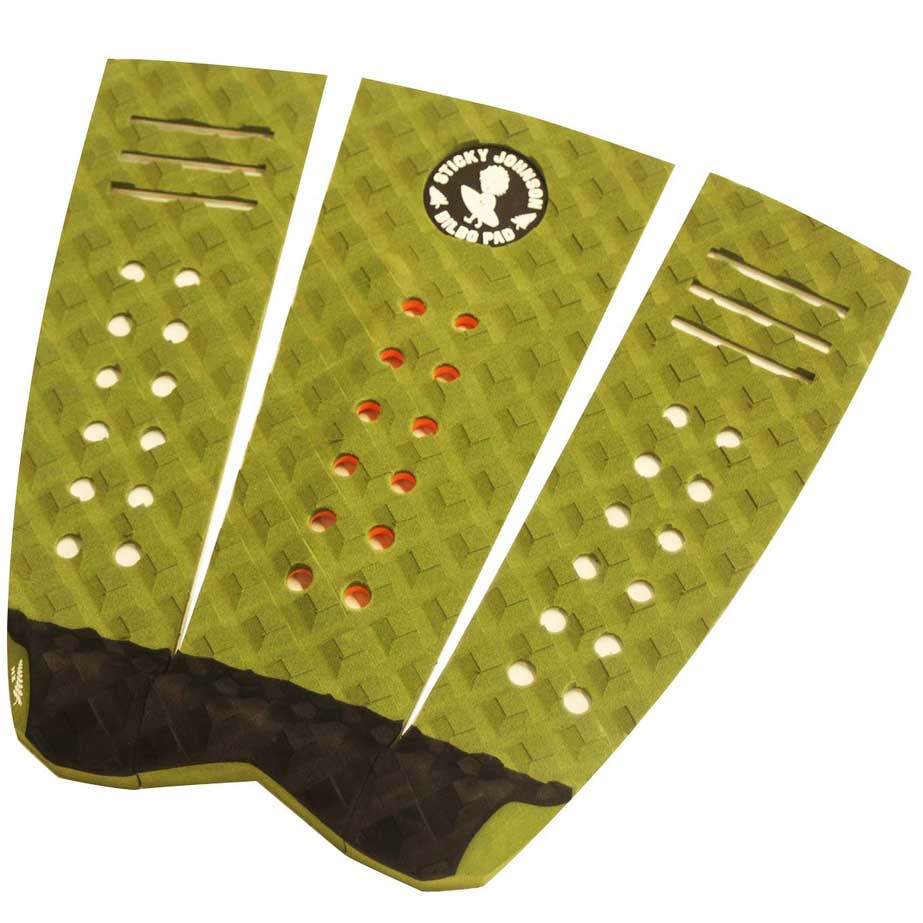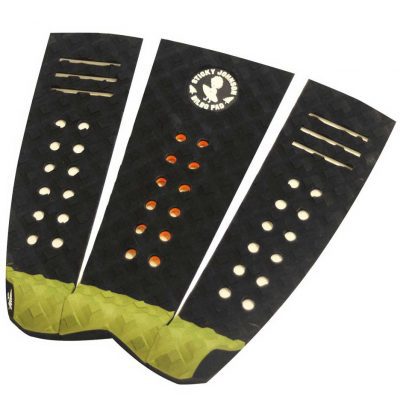 BILBO - Curve rider Billy Stairmands signature pad! 3 piece colourways in order top left to bottom right: black, grey black, olive black, black olive
JELLYTIP 2 piece colourways in order left to right: orange, green, blue
STICKY STAR 3 piece colourways in order left to right: blue, green, orange, grey
 ILLUMINATOR 3 piece colorways in order left to right: orange, blue
BIG BOI SABRE 3 PIECE made wider for modern wide tail shortboards. 
JAWS 3 piece colourways left to right black, white, blue
Protect your board and increase traction by applying deck grip as follows
Make sure your board is 100% clean and dry from any wax, debris or moisture. Hint: use a Curve Power Wax Scraper to easily remove the bulk of your wax. Remove all remaining wax residue with an old rag, or rub in some fiberglass dust (ask your local shaper) or even better Sticky Johnson Wax Remover
Position rear edge of surfboard grip over back base of your rear fin – getting close to but not overlapping leash plug. For wider boards you may want to spread the grip side bars out (taking care not to overlap rails) and for narrower boards leave as a solid pad.
Pencil an outline of desired traction pad position.
Line up centre surfboard grip with centre surfboard stringer and apply slowly from bottom up, avoiding air bubbles.
Line up surf grip side bars equally and apply. Leave the traction pad for at least 12 hours to fully dry.
Your new grip is ready to rip!
Free Shipping on Orders Over $30!
Australia delivery addresses qualify for FREE SHIPPING for any order product value over $30!
This includes everything even our entire boardbag range - Boost 20mm single travel surfboard bags, Superslim multi 1-2 day surfboard bags, Overstayer multi 1-3 travel surfboard bags, and SUP travel bags, all ship FREE. 
Plus any product, or combination of products, valued at over $30 all ship for FREE.
Stoke on that !! 🤙🤙
Express options are also available, see below for details.
For any questions please email orders@curvesurf.com for an immediate reply
Order Processing & Delivery
Orders are processed within 24 hours of receipt. Shipping takes place on weekdays only, so orders received on a Friday will normally ship on a Monday.
STANDARD Delivery times are up to 10 working days after order has been shipped (but may be much quicker). 
EXPRESS 5Day ships in 5 working days, day one counting as the day after your order is placed. eg order is placed 4pm Monday. Order ships Tuesday and 5 day delivery arrives by end of day Tuesday. [orders received early in the day may ship same day]
DHL 2Day [small and medium sized items only] ships in 2 working days, day one starts from up to 24 hours after your order is placed. eg order is placed 4pm Monday. Order ships Tuesday and 2 day delivery arrives by end of day Thursday. [orders received early in the day may ship same day]
For special delivery requirements, such as 2 Day shipping on larger items, please contact us for an immediate quote.

If you have any queries about the status or progress of your order, for a same day response simply reply to this email or, alternatively, contact us at orders@curvesurf.com or phone +64 21 746 369 [this is an international number, please be sure to dial the 64 country code] thanks 🤙🤙